Maple Pumpkin Porridge Pancakes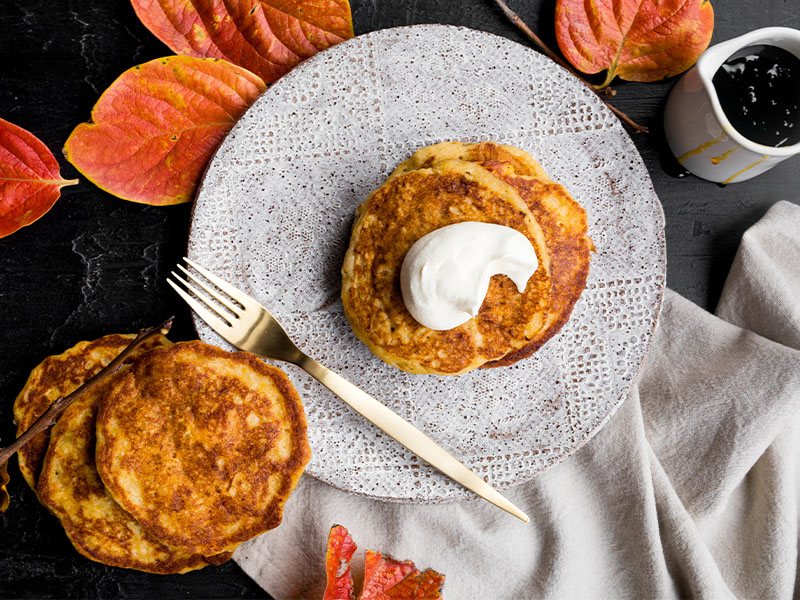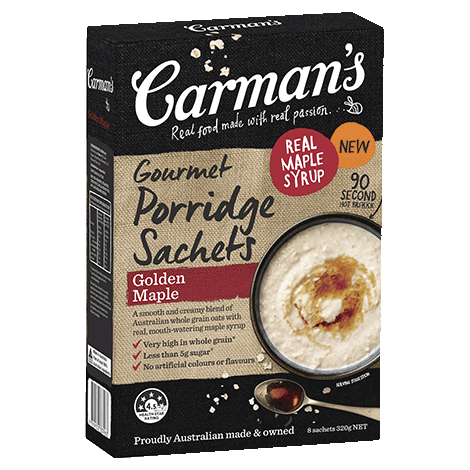 Ingredients
400g butternut pumpkin, peeled, cut into 2cm cubes
150g plain flour
2 Carman's Golden Maple Porridge Sachets
2 tsp baking powder
1 tsp bicarbonate of soda
1/2 tsp ground cinnamon
375ml buttermilk
1 egg
80g melted butter
1 tsp rice bran oil, to fry
whipped cream and maple syrup. to serve
Method
Preparation time: 30 mins
Cooking time: 20 mins
Serves: Makes 14 pancakes
Place pumpkin in a microwave-safe container. Pour in ½ cup water and microwave on high for 5 mins or until pumpkin is very soft. Drain water and mash pumpkin until smooth.
Combine flour, Golden Maple Gourmet Porridge Sachets, baking powder, bicarb and cinnamon and mix well. Add buttermilk, egg and mashed pumpkin, mixing well. Stir in melted butter.
Heat a tiny bit of rice bran oil in a large, non-stick frypan over low-medium heat. Spoon batter into the frypan (each pancake will be 2 tbsp batter, try to cook 3 at a time). Fry for 2 mins (you will see little bubbles form on the top) then flip and fry for a further 1 min. Keep warm.
Repeat with remaining batter, then serve pancakes warm with whipped cream and a drizzle of maple syrup.